Influencer Marketing Stats: Global & Greece!
Trying to understand the growth of influencer marketing? Here are some global and greek stats based on various global resources and our data from past campaigns in Susurrus.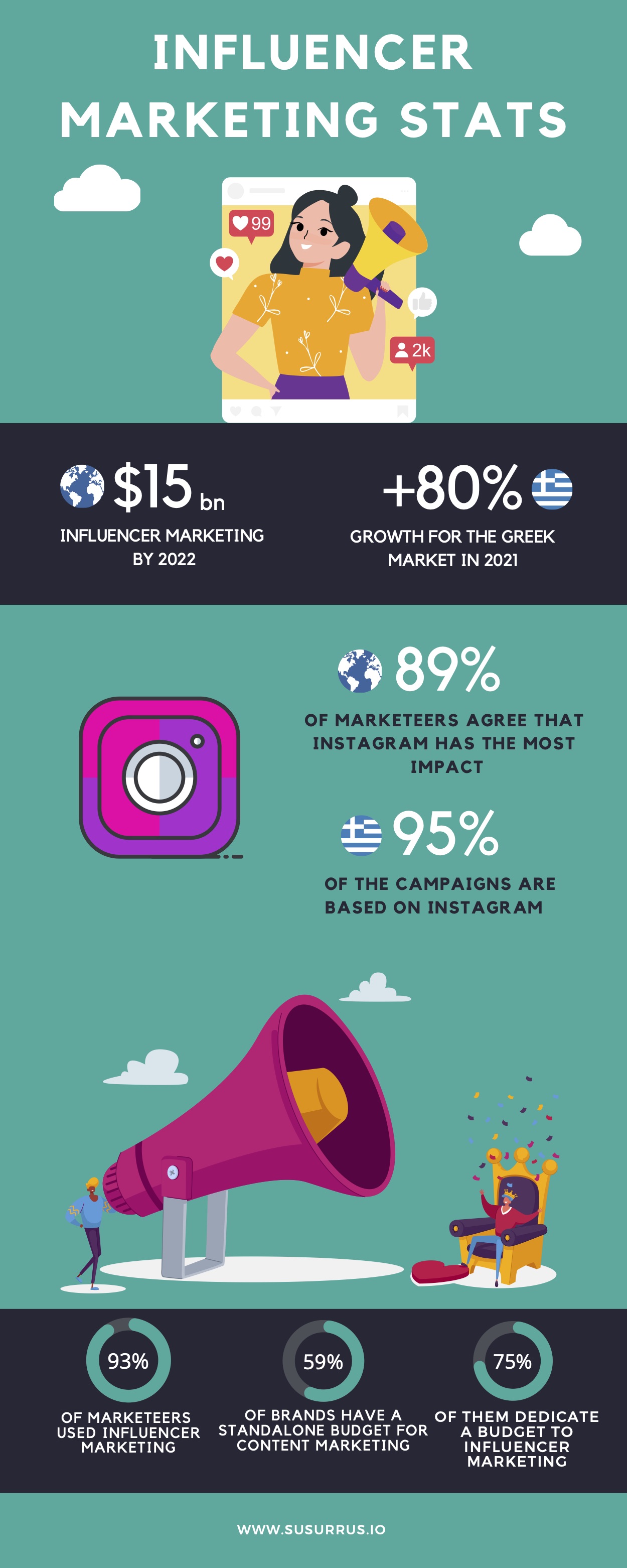 Influencer Marketing growth by 2022
Globally:  As an industry, Influencer Marketing has expanded rapidly in the last 5 years. Marketeers, agencies and brands have started to reduce the amount of money they spend on traditional advertising media, while they keep increasing the expenditure on Social Media Marketing and Influencer Marketing. From $1.7 billion in 2016, influencer marketing is estimated to reach $13.8 billion in 2021 and $15 billion in 2022.
Greece: Influencer marketing in Greece made its big appearance 4 years ago. Since then it has evolved rapidly. Based on our data, we are expecting an 80% growth in 2021, in the greek market.
The importance of Instagram in Influencer Marketing Campaigns
Globally: 89% of marketeers agree that it is the most impactful social media platform for influencer marketing. Basically, 9/ 10 Influencer Marketing campaigns utilize Instagram, so it ranks #1 for the most impactful and important channel. Tik Tok was added to the Social Media realm recently, but the percentage of brands using it continues to increase.
Greece: Our metrics show that 95% of the campaigns contain Instagram content. It is very rare to find a campaign that does not use Instagram and in this case, brands are likely to choose only Tik Tok or YouTube.
Use of Influencer Marketing globally
93% of Marketeers admit that they have used Influencer Marketing. A great 80% of companies using influencer marketing declare it to be effective. Influencer marketing is valued as the best channel for ROI, with marketeers claiming that influencer collaborations provide the highest returns of any channel. In comparison to banner ads, Influencer Marketing produces 11x more ROI. More than 10% of Marketeers say that influencer posts are their most successful channel for audience engagement.
Budget for content marketing globally
59% of Brands have a standalone budget for content marketing, and 75% of them intend to dedicate a budget to influencer marketing. The same stats depict that 17% of Marketeers spent over half of their budget on influencer marketing in 2020.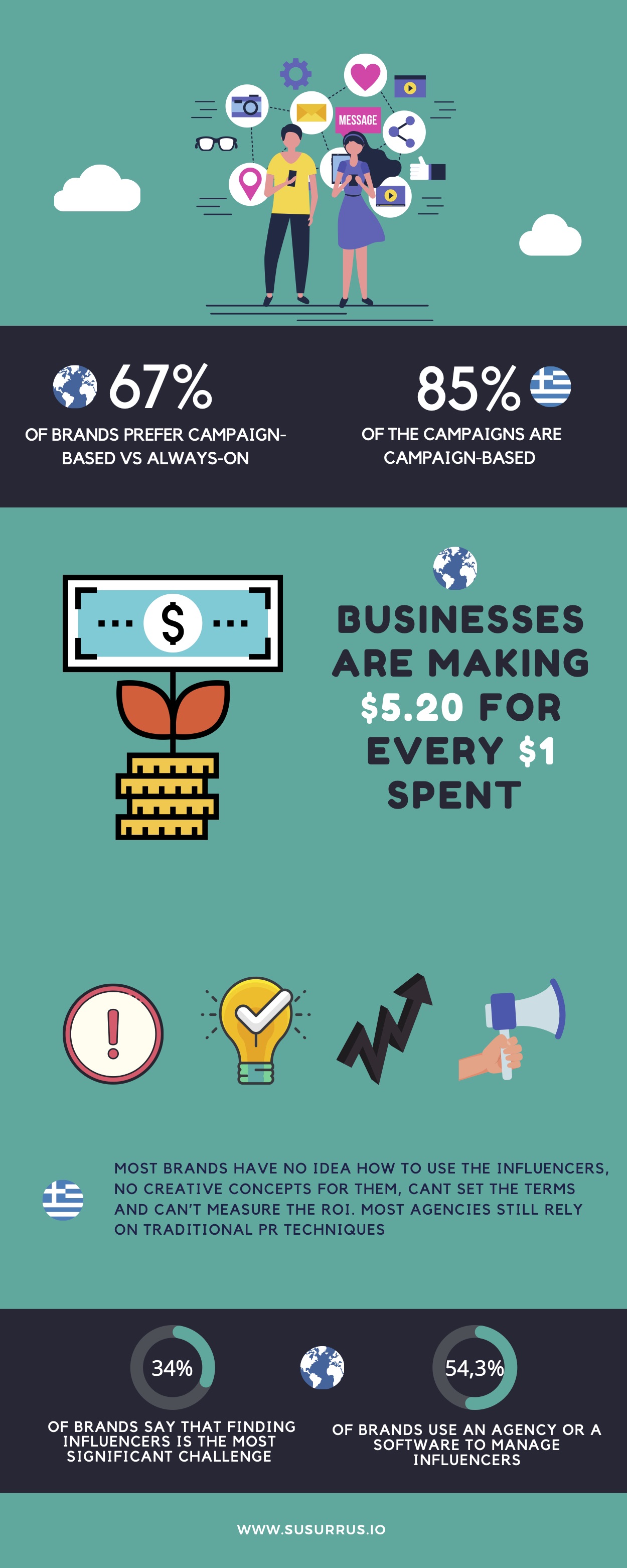 Type of Influencer marketing campaigns
Globally: 67% of brands prefer their influencer marketing to be campaign-based rather than always-on. Generally, brands prefer to build long term relationships with their influencers, but only create content when there is an ongoing campaign. The same percentage of Marketeers admits that they engage with Influencers for content creation. 56% of brands use the same Influencer on various campaigns. In terms of content creation, 89,9% of Influencer collaborations occur mostly before a product launch, for content promotion or event publicity and only 5.1% is related with crisis management content. In addition, almost 9 in 10 brands prefer influencers to make original content based on a brief, as opposed to posting content that has been directly provided.
Greece: 85% of the campaigns are campaign-based.
Profit from Influencer Marketing globally
Businesses are making $5.20 for every $1 spent on influencer marketing. A 2019 survey by The Influencer Marketing Hub emphasizes how influencer marketing can be highly lucrative for those brands who engage in it. The top 13% of businesses make $20 or more. 71% of marketeers claim that customers gained from influencer marketing are of higher- quality than those gained from other kinds of marketing.
Problems with Influencer Marketing
Globally: 34% of brands that run campaigns in-house say that finding influencers is the most serious challenge for them. Marketeers acknowledge the difficulty in finding relevant influencers for a campaign. They, also, recognize that if you do not collaborate with the right influencer for your product, your campaign is fated to fail. Some brands find difficulties in measuring the results of their Influencer Marketing campaign. Brands indicated problems with measuring ROI and campaign results (23.5%), managing contracts and deadlines for campaigns (13%), processing payments  (10%), and bandwidth or time restraints (9.5%). As a result, 54.3% of brands engaged in influencer marketing use some kind of agency or self-service software to manage influencer relationships
Greece:  Most brands have no idea how to use the influencers, how to find them and communicate in order to create a campaign on Social Media. In addition, they do not come up with creative concepts for them, they can't handle the Influencers or set the terms and last but not least they can't measure the ROI, so they can identify if the campaign was successful or not. Most agencies still rely on traditional PR techniques.
**Global stats: Data based on the following 4 aritcles/ researches for Influencer Marketing
https://influencermarketinghub.com/influencer-marketing-statistics/
https://backlinko.com/influencer-marketing-stats
https://nealschaffer.com/influencer-marketing-statistics/
https://websitebuilder.org/blog/influencer-marketing-statistics/
**Stats for Greece: Data based on 150 influencer marketing campaigns of Susurrus in Greece during 2020, including 700 Greek influencers.